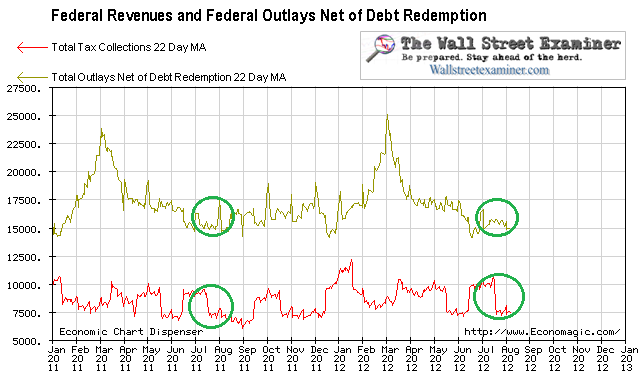 The media was a bit excited in reporting that the July federal budget deficit had dramatically shrunken. For example, while noting that "$35 billion in monthly recurring benefit payments that would have been made in July were accelerated to June because July 1 was a Sunday," Bloomberg's report neglected to point out that that would have negated the shrinkage. In addition, the report neglected to note that a whopping $23.4 billion end of June semi-monthly withholding tax collection that would normally come in June was delayed until July 2. This was, again, a calendar effect due to June's last business day being Friday, June 29. Negating those two calendar effects, the budget deficit for July would have been up, not down.
Here's how Bloomberg reported it.
The U.S. government's budget deficit narrowed in July, as spending dropped by 11.9 percent from a year earlier and some payments were accelerated to the previous month for calendar-related reasons.

The gap shrank 46.2 percent to $69.6 billion from a $129.4 billion shortfall in July 2011, the Treasury Department said today in Washington. Last month's gap was smaller than the projected $90 billion deficit, according to the median estimate in a Bloomberg News survey. For the first 10 months of this fiscal year the deficit was 11.5 percent narrower than in the year-earlier period.

"On an underlying basis and absent policy changes, it appears that we are on a path for the deficit to narrow by roughly $100 billion per year," said Stephen Stanley, chief economist at Pierpont Securities LLC in Stamford, Connecticut. That is "moving in the right direction but not nearly fast enough," he said by e-mail before the report.

via U.S. July Budget Gap Narrows on Lower Spending, Payment Shifts – Bloomberg.
Both the Bloomberg reporter and Mr. Stanley apparently failed to consider the details available in the Daily Treasury statement that are not apparent from a cursory review of the monthly Treasury Statement. Tracking the data from the Daily Treasury Statement throughout the month makes these effects clear. I warned Professional Edition subscribers about it on July 13 when the June Monthly Treasury Statement was released.
Wage withholding was down 5.5% in June versus June 2011, falsely suggesting a weakening economy. That was completely due to the last business day of the month falling on June 29. Semi weekly, and twice monthly withholding for the end of June would be delayed into July. In fact, $23.3 billion in withholding taxes were remitted on July 2. That's one third of all the withholding taxes previously collected in June. Conversely, July will look like a blockbuster month because of that. We'll have to keep that in mind when reviewing next month's statement.

From – Is death star on the horizon for Treasury panic bubble?
When analyzing and comparing Federal revenues and outlays from period to period, being cognizant of the calendar effects is critical to understanding what is actually happening with the trend. Considering these effects, July's data does not imply that the deficit is improving in any material way. The daily data frequently tells a different story than the mainstream reporting.
Over the past month, outlays have run about even with last year. Revenues were stronger than last year in early July, but dropped back to a very slight net gain in nominal terms in mid July through August 7. In inflation adjusted terms the comparison is now slightly negative year to year. On the basis of the monthly moving average through August 7, the budget gap has not improved at all.
Stay up to date with the machinations of the Fed, Treasury, Primary Dealers and foreign central banks in the US market, along with regular updates of the US housing market, in the Fed Report in the Professional Edition, Money Liquidity, and Real Estate Package. Try it risk free for 30 days. Don't miss another day. Get the research and analysis you need to understand these critical forces. Be prepared. Stay ahead of the herd. Click this link and begin your risk free trial NOW!