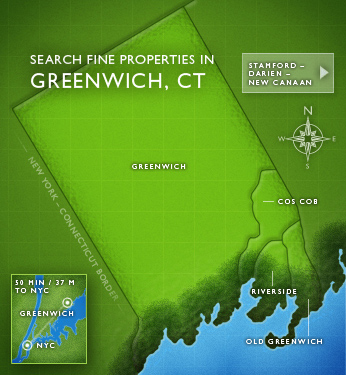 Files, then denies exaggerated police complaint.
By Teri Buhl
A popular Greenwich, CT real estate blogger who runs the site For What It's Worth is facing some aggressive bullying by the town's Association of Realtors (the Greenwich Association of Realtors) and the big-money broker firms that sit on its board. This week the blogger, Christopher Fountain, was hauled in by the Greenwich Police after a staff member of the GAR filed a 'concern for safety' complaint against him. No charges have been filed, but Fountain was subject to an hour long interrogation interview questioning his alleged intent to harm or harass the GAR.
The outspoken Fountain was a former real estate columnist for the Greenwich Post and currently works for EBTrealty to help home buyers find distressed McMansion deals in a town that's populated by some Wall Street's most successful and feared players – the hedge-funders. His blog (FWIW) highlights MLS listings by the GAR and informs the reader of details the association doesn't really want on the open internet – like how much they've dropped the price since first listed. His sharp, often gossipy, commentary has drawn near 9 million readers from around the world and challenges the Polyanna-ish fluff stories both Greenwich newspapers often print about the state of home sales for their bread-and butter-advertisers ('McMansion' home ads).
The pissing match between the blogger and his own trade association has taken a bizarre turn though as Fountain says the Greenwich PD let him go quickly after they became aware the complaint was exaggerating — if not lying — about Fountain's actions. Now he says he plans to file an anti-trust complaint with the Department of Justice against the GAR and will contact the Connecticut Attorney General's office over what he feels are cartel-like bullying tactics to shut down his independent blog and real estate business.
GAR is known to have some of the highest fees and MLS listing requirements in Fairfield County, CT, tied into some sort of exclusive mandate that doesn't encourage members list elsewhere. The brokers also aren't allowed to input their own listings it's all controlled by the GAR staff. So Fountain has been floating business plans on his blog exploring how sellers could reduce their commission fees and is vocal about newspaper ads not being a value-add for the seller. "Any half page ad is really an ad for the broker firm. They don't care about selling that home — they just want the calls coming into their office," says Fountain.
You can see why he might be a thorn in their side in general, but there was one post that really set the GAR off. Fountain , who often referred to the association as 'the evil princess' in daily blog post (without naming a specific individual) wrote a post talking about a new bullet called the 'Zombie Bullet'. As a member of a local shooting club, Fountain wrote he was going out to the range — but wouldn't be using any of the fictional 'novelty bullets'. He also mentioned he would be driving by the GAR's headquarters on the way. While his tone might have approached a gray area of appearing to threaten to harm someone, it didn't list anyone's name or say he was going to use the 'bullets' on an individual (or anything more literal, like shoot his gun at a building). Local readers and the GAR know sarcastic humor is often used in his editorial tone. Regardless, the GAR apparently got their vice president, Theresa Hatton, to file a police complaint against Fountain. The blog posting wasn't enough to haul Fountain in, so it appears she gave the GPD 'something else' to take the complaint seriously. However, a copy of the complaint isn't available to the public until the detective officially closes the case, so we'll have to wait to see the details.
When I called and emailed Theresa for comment yesterday I got a surprising response. She denied ever filing a complaint and said there would be no further comment from the GAR. So I called the GPD records office and spoke with Gene who confirmed Theresa had filed a complaint (number 12-18939) against Fountain, and that the investigating detective was Robert McKiernan. I called Theresa back reminding her that when you file a police complaint the public can find out, and said that I didn't understand why she was lying about it. Here we have an association go so far as to get a staff member (Fountain thinks a board member put her up to it) to file an aggressive complaint against a person for simply criticizing the organization and then they want to hide when a national journalist wants to report on it. Hmm… something smells funny, perhaps?
Fountain also claims the complaint was premeditated, as he got a call the day before the GPD ever reached out to him, detailing how a Greenwich Sotheby's manager was bragging 'We got Fountain'. A woman from Sotheby's is on the board of the GAR.
Fountain, who is also a seasoned attorney, can handle the legal aspects of fighting what is looking to be very near to an 'anti-SLAPP' action against the GAR (SLAPP suits are baseless libel/defamation lawsuits that are levied by well-funded litigants against a smaller opponent whom they wish to silence — something ML-Implode readers know much about). In Fountain's case, his detractors clearly haven't been able to find any instances of libel or defamation, as no suits have been filed against him by realtors or broker firms — but I hear people often complain about the tone he's taken when writing about them. Speculation is indeed often employed at his blog; the problem for 'the haters' is that this is the United States of America, so if it's true he's allowed to print it, and he can voice whatever opinion he has on what he is writing about. And if you don't like it, you don't get to make up a police complaint to try and stop him.
Not able to get an arrest, the Greenwich Association of Realtors has also threatened sanctions against Fountain because he uses 'their' house photos and provides links to their site when he writes about home sales. But the house photos don't actually belong to the GAR (that would be the buyer or listing agent) and their listing data is open-sourced, so it doesn't appear that they have an option to sanction. Nethertheless, he has not fought these edicts and has started to source photos from Zillow or other sites and has offered some fun commentary along the way.
I'd imagine his DOJ complaint against the GAR is going to be one heck of good read.
Links for this article: