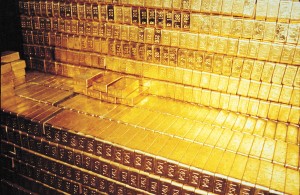 By Aaron Krowne
Founder, ML-Implode.com
Other critics have done a good job of debunking Bernanke's various weak economic arguments against a gold standard, made in his comments to college students two days ago.
However, I think their efforts are largely in vain, as Bernanke's remarks are directed towards already-decided opponents of monetary gold to give them a fresh excuse (on authority) not to change their position. And those who "believe" in gold will not be swayed by Bernanke's puerile remarks. None of this changes anything, as far as rhetoric goes.
So I'd like to make an unconventional response.
The essense of my response is this: "Hey, Bernanke, we're already on a gold standard!"
"Huh?" You might say, not even knowing where to begin. But before you call me crazy, remember that the core financial asset that the US government, and all the rest of the world's nations and central banks hold, is gold. Yes, still, even today — even in the US (the US is in fact the world champion of gold holdings, with 8000 tonnes, at least, so it claims).
Further, the US has rebuffed recent calls to sell its gold in the last few years, even though this would certainly be useful to raise cash in a time of severe deficits. More broadly, Western central banks have stopped their gradual coordinated sales (which ran from 1999-2009), and Eastern central banks are aggressively buying. Central banks as a group have been buying gold aggressively since 2009. The IMF has made a few sales here and there, but it is not a country (and thus has no national interests), and its sales have been immediately snapped up by central banks, negating the effect.
When Ron Paul questioned Bernanke point blank about why we still hold this official gold last year, Bernanke hemmed and hawed, and then came up with "because it's tradition".
Well, if it is really just tradition, and there is no fundamental reason for a nation and/or its central bank to hold gold as its core balance sheet asset, I would like to see Bernanke propose that we sell our gold here in the US.
I doubt he will be doing so any time soon.
So, clearly, all major countries of the world are already on a gold "as the core balance sheet asset" standard. The distinction between now and points past is that they have removed any direct covertibility between the paper money notes they issue and gold. In other words, gold is the official monetary standard, but only for the elites — it is not for mere peasants like you and I to get access to the gold backing the currency they issue on a day-to-day basis.
This distinction in hand, the picture becomes more disturbing. Bernanke isn't arguing against the monetary usage of gold on some sort of general economic basis. He's arguing that you shouldn't have access to gold in the sense of providing the same sort of monetary stability that central banks and nations still, today, hold it for. The elites doing so, and benefiting from this dichotomous system, include Ben Bernanke himself.
Of course, you can still go out and swap your dollars for gold, on the open market (since 1974). But central banks and governments will not, as they did in the past, guarantee the amount of gold backing currency notes. There is one and only one reason for them to still hold gold but not provide such a guarantee to their citizens: because their first objective is to provide an "elastic currency", which is to say, one which allows them to continually rob the monetary value from the "little people" so they can redistribute it to the preffered banking and political cronies.
They still need gold to prove their credibility to the rest of the world, but are no longer willing to make such a guarantee to their own citizens. This is what Bernanke is defending, not the total absence of using gold in a central monetary role.
When you put it like that, it doesn't sound so noble, does it?
Now, it is also worth mentioning that Bernanke, like most mainstream economists, worships FDR for confiscating gold from US citizens and devaluing the dollar during the Great Depression — which was the start of this system where only the global elites hold and deal in gold in an official capacity. Yet, FDR's manuver did not end the depression: indeed, there were more years of the Great Depression ahead of the 1934 gold confiscation than behind.
This is because a depression isn't primarily about deflation caused by the currency as Bernanke so dogmatically believes — it is more about factors in the banking system, business and trade world, and government, that have to do with the sudden onset of uncertainty. To the extent that policy makers and other leaders in this complex system fail to lift of the veil of uncertainty, the depression will continue.
The fact that cash is suddenly withdrawn from lending by the usual lenders in this picture does not automatically imply that the answer is to shower the economy with more cash, inflating the money supply. That's what FDR did with his gold confiscation and devaluation, which, for all its trampling on the Constitutional rights of citizens, only gave a brief "sugar high" to the economy. That's because FDR (despite implementing some useful relief measures) ended up strangling the economy by becoming too interventionist, creating regime uncertainty. Businesses went on strike.
The same thing is happening today, except this time the problem cannot be blamed on a gold standard. Despite a COMPLETELY elastic currency (Bernanke can print as much as he wants, and in fact, the business world is BEGGING for another round of his "QE" money printing — because everyone loves sugar highs), we are stuck in the same sort of economic rut as in the Great Depression. We have showered the economy with cash — with Bernanke trying DESPERATELY to keep it from getting into the hands of us peasants, using advanced financial engineering "technology" — yet the economic machine seems to be going nowhere. This is called "pushing on a string", and apparently, it can happen just as well without a gold standard.
This all proves my point that a depression is more about regime uncertainty than monetary factors, which are secondary.
Actually, monetary factors do play a key role, but that is primarily in creating the onset of a depression by fuelling a speculative bubble beforehand. When central banks and the banking system inflate the money supply and times are not only good, but great, the "animal spirits" are in effect, the "money multiplier" kicks in, and enormous financial committments are made that cannot possibly be paid back on the long-run fundamentals.
There is no simple monetary cure that can reverse this situation once it has occurred. While the unsound financial committments are in a sense monetary, more importantly, they are societal, and must gradually be unwound through a process of disappointment, acceptance, change of control, shifting of real assets, and bankruptcy.
When the government creates regime uncertainty (as it is doing today with laws like Dodd-Frank, rather than going after the core financial fraud using the ample laws already on the books), and further, acts to preserve the very institutions that have failed the most and most need to give up control, it solidifies a long-term depression into place.
In fact, one of the moves that would help get us out of this depression would be to do something concrete that would increase faith in our financial system. I suggest that widening the monetary availability of gold once again to the market in general — that is, making dollars freely convertible to gold — would help immensely.
And rather than repeat the mistakes of the past by pegging gold to an arbitrary level (essentially government price fixing), the government should allow gold to be convertible to and from the dollar at a "market clearing level", adjusted regularly by auction, so that the Treasury does not either lose undue gold ounces, or induce further deflation by over-valuing gold against the dollar.