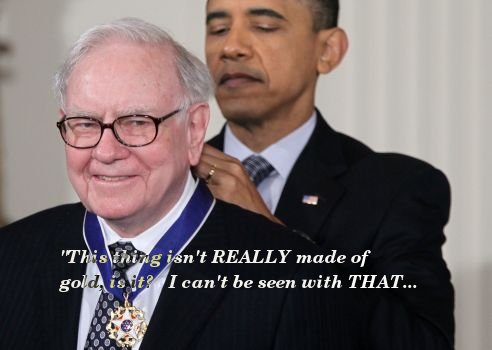 By Aaron Krowne
Founder, ML-Implode.com
This precious little editorial by Mark Hebner discusses the long-running saga of Warren Buffett and gold, that is, the Oracle of Omaha's well-known disparaging views of the yellow metal. The treatment is fair enough, but it ends up rather abruptly adopting Uncle Warren's analysis and siding with him against gold. To me this represents a sad failure to think beyond one man's limited worldview.
Hebner asks rhetorically in the conclusion: "where are the fortunes created from gold?"
My answer is simple: the fortunes created from gold are the same as the fortunes created from public utilities, law and order, title and transfer of real property, functional representative government, and so forth.
That is, the value to society of gold is totally in the form of an externality — but very much real, and arguably more important to society than cent one of entrepreneurial capital (or returns).  That's because gold, as the only known sound monetary basis, makes up the foundation from which a legitimate (and thus long-term and sustainable) capitalism can be built.
Gold is the reference point and the "check and balance" that makes all money and banking function properly.  Without it, there can be no general facility of "savings" for the middle class of the poor (and therefore no real wealth to form the capital pool of legitimate investment), no expectation of generally-increasing real wages (provided by a gradually-appreciating monetary unit), no true "insurance scheme" to protect currency from bank failures, and arguably, no reliable long-term financial contracts.
I won't even get into what an "elastic currency" does for rewarding bad behavior by national governments and profligate big, powerful banking institutions (via their central bank patrons).
The only reason gold's value as an important utility is less well-recognized than the value of, say, public sanitation, is that the economy appears to chug along just fine for a while when the golden monetary anchor is removed.    Yet, as we are seeing now, eventually all hell will break loose as the complex machine of the economy begins to come apart at its myriad joints and gears and heads towards total collapse into a smouldering heap.
There is actually an apt analogy in another area of society's "public utilities": (fairly-implemented) law and order.  Society can operate for a significant while "by the seat of the pants" without it, but sooner or later, a system of ad hoc power and capricious enforcement will break down horribly — and often catastrophically, irreversibly and murderously.
That's what Buffett is excusing by his relentless, misguided disparagement of gold.
So to Buffett and Hebner I say: the fortunes created by gold are only hard to see if you cannot see the entirety of Western technological progress (and the progress of its civilization in general) from the days of Issac Newton at the Royal Mint through the late-1960s breakdown of the Bretton Woods currency-rigging scheme, when the last vestiges of (offical) monetary gold were removed.
A final remark: as if to underscore the perennial hypocrisy of Buffett (a man who has benefitted in a decidedly non-free market manner through his ownership stakes in Wells Fargo, Goldman Sachs, and Bank of America, while simultaneously exerting significant influence on Congress and the federal government in determining their bailouts), it was announced on February 22, 2012, that Berkshire-owned Richline Group is buying the US Precious Metals business of Cookson Group.
Perhaps gold will end up making a "fortune" for Uncle Warren after all.