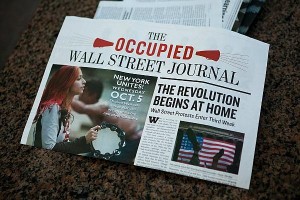 by Aaron Krowne
Founder, ML-Implode.com
Left, right, or center, most of the mainstream media has been utterly contemptuous of the nascent Occupy Wall Street (OWS) movement, as Jon Stewart has just illustrated adroitly with his signature wit. Of course the right-wing pundits cannot be beat for their overt contempt for the protests — it's all just a bunch of statist, communist, anti-capitalist malcontents, don't you know! Nothing good wholesome Americans should support, or even pay attention to.
Malcontents, yes, but is this so different than what has been going on with the Tea Party for two years now? Again (in the above show), Jon Stewart deftly illustrates this point by taking a Sean Hannity quote from 2009 out of context; viewers intrinsically understand it to be referring supportively to the OWSers; until Stewart reveals that it actually was said in reference to the Tea Party.   How very illuminating.
Hannity should look again. He could even get a nice Obama jab out of it, if he wasn't so obtuse.
You see, in my estimation, Occupy Wall Street is the left/progressive-center reaction to the same factors that motivated the Tea Party and caused it to explode onto the scene as real force in politics (surprising the entire establishment).
When that happened, leftists took their turn deriding the popular movement, calling it not popular, funded by self-interested billionaire benefactors (of course that doesn't happen on the left), or blaming it on "anti-Obama racism."  Surely there is some of that (maybe a lot of it), especially in the late-comers to the modern movement (which actually began before Obama's ascent, with Ron Paul), but what they missed in their knee-jerk reaction was that the core concerns of Tea Party were quite valid and rang true to many formerly apathetic Americans. They were not born Tea Partiers; they were only made so by the ills of our polity and most importantly economy, which they were acutely experiencing.
The Tea Partiers may have passed judgment on Obama hastily, but they were right: things have indeed not improved, if not worsened under him. Even those on the left side of the spectrum have long since figured out why: he is quintessentially of the establishment, meaning the big corporate and especially financial power, and does not go against that grain except meekly and utterly symbolically.
So what, then, of Occupy Wall Street? I see it as the left-of-center answer to the Tea Party — except motivated by virtually the exact same core concerns of economic and political rot . It's effectively a Tea Party movement that all who view themselves as "somewhere else" on the political spectrum can embrace. A useful contrast is the ill-fated "Coffee Party" movement. That went nowhere fast — as I expected — probably because it defined itself as the "anti-Tea Party" rather than anything affirmative. Well, for a winning set of "affirmative" factors, one could always simply re-use the Tea Party's own. And that's exactly what Occupy Wall Street has done.
What Obama should take notice of (but probably won't) is that, because OWS largely consists of people who are (or were) sympathetic to him, if not overt supporters (and I'm not saying all — just most, maybe), they wouldn't even be out there unless he was a rank failure and a "sell out" to the very interests OWSers are decrying. In a sense, these people waited on Obama for almost three years, perhaps asking themselves "could the Tea Partiers have a point?" And then when Obama failed to rock the apple cart, the answer came in as a resounding "yes", and they got off their couches (if their couches had not already been repossessed). But they wanted to do it in their own way.
As part of his pandering reflex, Obama will probably make some faux-angry mouth-movements towards Wall Street, maybe push for a symbolic tax increase on the rich (which, whether you support the notion or not, will do little to change our economic crisis), and then, largely, do nothing. I mean, why should he, right? In Obama-world, he already supported Dodd-Frank, which was his grand answer to the financial crisis, so what more could anyone want? If anyone criticizes Dodd-Frank for being ineffective, he can always say it was "watered down".
That sort of excuse will likely ring hollow with OWSers (and Tea Partiers) who are still very, justifiably sore about "too big to fail", a notion now formally enshrined in federal law.
So, all you youngsters out there, when you are unable to afford to live after paying towards your six-figure student loan debt (which isn't dismissible in bankruptcy court, because that would upset JP Morgan Chase), you can rest assured that no mega-banks will be forced to go through the indignity of their owners losing THEIR assets through bankruptcy, or even their golden parachutes, or even their control of the companies they have run into the ground.
What I sincerely hope is that Occupy Wall Street and the Tea Party — which, if they are not best described as actually centrist, are motivated by fundamentally centrist concerns — learn to put their differences aside and work for solutions to the core problems they largely agree on. Roughly speaking, the top issues (as I see them) are :
the sclerotic economy (read: depression)
lack of opportunity or economic advancement, especially for young people
cronyist bail-outs for big banks and corporations which are unacceptable
undue influence of big banks and corporations on the government and its policies
a broken monetary and banking system (with the Federal reserve at the center)
inflation (a stealth tax on "the 99%", especially young adults and retirees) and official insensitivity to it
too much federal waste and power
elective wars and too much military-industrial concentration in the economy
outsourcing and "hollowing out" of our economy through monetary and trade policies; bad immigration policy
domestic distractions like the war on drugs and the usual wedge issues
For my part, I think both of these movements could forge a common platform, with the emphasis on the following general remedies (in rough order of how soon they should, could be implemented):
End the bailouts (including the Fed's current "zero interest rate" and "quantitative easing" policies, which are just bailouts by another name); force banks to recapitalize or be taken over if they are truly insolvent (probably most of the big banks and 1/3rd of the US banks total);
End the Fed itself (or at least nationalize it and making it totally transparent); I would also eliminate Fannie and Freddie (as these entities proved no better than corrupt banks and destroyed the housing sector even as they were supposed to "help" it);
Refocus the country on savings and capital development (starting with ending the Fed, or at least normalizing interest rate policy) — as opposed to the current focus on debt and credit (national development banks, or especially state banks, could be opened to kick things off if the private markets are still not functioning, but the above moves should unlock the private capital markets as well. Look towards Iceland);
Loosen regulations on small businesses and dramatically scale back (if not eliminate) taxes on them;
Cut back federal regulations dramatically and instead focus on actually enforcing a core set of must-have regulations;
Get the money out of politics and private influence out of regulation (this is tough to do but we could make meaningful steps forward with bans on "the revolving door", strengthening and expanding whistleblower rights and awards, forcing all legislation to be transparently connected to those who wrote it or made any change to it, limitations or bans of corporate money in national politics — possibly moving to a public funding model which actually admits third parties).

As an important sub-item to this one, I would recommend purging the top 2-3 levels of all of the federal enforcement bodies (including the SEC), and the Justice Department, and find a way to rout out corrupt federal judges;

End the elective wars and policing the world;
Move government to the most local level possible — where it is actually appropriate and can be both funded AND watched over by its true constituents. Shrink the federal government and return most taxes to the states and the people.

It's not about "big government" vs. "no government" — it's about government functioning properly by being accessible to its own constituents (note that no other democracy exists comparable to our size or larger, except India, which is, tellingly much more local-based. We have the largest monolithic central government in the world for a democracy, and it doesn't work!)
I was also going to add "balance the budget and stop continually selling Treasuries to foreigners" (as this is what fuels the outsourcing and trade deficit), but I think that would come naturally if we implemented the major steps in the above list.
I find it hard to believe that most Tea Partiers or most OWSers would not agree with most of this program, and I suspect most common-sense Americans would support these sorts of measures, whether or not they count themselves a part in either movement.
The establishment may laugh now, but I suspect most Americans, within or without either of the above movements, will catch on to the necessity of this agenda amidst our economic and political death spiral, and ultimately force such a restructuring so that our civilization can survive. It's time for a little "regime change" at home!