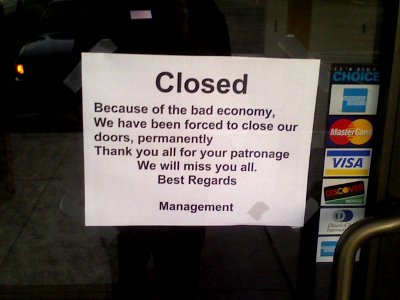 Posted originally at BullionBullsCanada.com.
On an individual level, the "middle class" has always been the "backbone" of any/every strong economy. Despite this fact, the U.S. government has been extremely effective (and utterly relentless) in destroying its middle-class in order to funnel all of their wealth into the hands of corporate Oligarchs and/or the ultra-wealthy.
On the business side, "small businesses" have (also) always been the backbone of any/every strong economy. Specifically, as any/every politician can tell you (but only when they are campaigning for your votes), small businesses are the big "job creators" in our economies. This is partly a function of the much greater numbers of such enterprises, but also a function of the fact that small businesses tend to be more labour-intensive than larger businesses.
Despite the importance of these small businesses to the U.S. economy (and job-creation in particular), the U.S. government has been equally relentless (and just as "successful") in exterminating small businesses. The facts are unequivocal.
According to a CNN article, over the past 15 years, almost 2/3 of all net job creation in the U.S. has come from small business. With the various levels of U.S. government accounting for basically all of the rest of the new jobs in the U.S., this means that medium- and large-sized businesses have done nothing for the U.S. economy over the past 15 years.
Despite this glaring dichotomy where we see small businesses producing all of the positive business activity in the U.S. economy while mid-sized and large businesses have contributed nothing, U.S. tax policy is punitive in the extreme toward small businesses (and their owners).
I'm sure that most readers are totally confused about the U.S. government's taxation policy towards business. Sometimes they hear reports of multinational corporate deadbeats, making $billions in profits every year, while paying little-or-no taxes at all. Sometimes they hear reports that (generally speaking) the U.S. has one of the highest "corporate tax rates" out of all Western economies.
In fact, both statements are true. Large corporations are the beneficiaries of $100's of billions in corporate taxation welfare every year – massive taxation "loopholes" designed expressly for them in order to minimize the taxes of these corporate parasites. Thus the "tax rate" is irrelevant to these entities since their net taxes are negligible. Meanwhile, U.S. small businesses are almost completely shut-out from all this corporate taxation welfare – meaning they (and only they) pay full taxes on each/every dollar of profit they manage to eke-out.
The picture is very clear: U.S. small businesses are being forced to subsidize larger corporations by essentially being required to pay their taxes for them. If these large, corporate welfare-bums were cut off from their $100's of billions of tax-welfare each year then the overall corporate tax rate would be much, much lower – and the tax bill for small businesses would be manageable (and fair).
Of course this is merely the beginning of the persecution which U.S. small businesses face at the hands of their own government. When the Wall Street Vampires were extorting their $15 trillion in hand-outs/loss-guarantees/tax-breaks from the U.S. government, as a "condition" for the most excessive corporate welfare in history they "promised" to increase their lending to individual Americans and businesses.
They lied.
In fact, virtually every month since they mooched their $trillions, the Wall Street Vampires have been reducing their lending. While banksters like JP Morgan have no interest in giving "loans" to U.S. small businesses, it is quite eager to enslave them with its "small business credit cards" – charging interest rates of up to 30% per year.
JP Morgan calls borrowing from the Federal Reserve at 0% and lending to small businesses at 30% "good business". I call it "usury".
It gets worse for the small business owner. Larger corporations can access markets (and customers) all over the world. Thus the same U.S. corporate welfare bums who are getting small businesses to subsidize them by paying their taxes for them, are then able to leverage those subsidies into fat profits in foreign markets – and creating jobs in those foreign markets.
This means that not only is the U.S. government actively conspiring against the only "job creators" in its entire economy, but it is (indirectly) using them to create jobs in other countries. However, being cut off of any reasonable access to credit, and facing extreme tax discrimination are far from the only problems of U.S. small businesses.
As I just mentioned, these enterprises are much more dependent upon domestic consumers/consumption than larger businesses. As I observed at the very beginning of this commentary, the U.S. government has been relentless in annihilating the customers of these small businesses: the U.S. middle-class. It is a comprehensive "strategy", which (over time) can only lead to the literal "extinction" of the small business in the U.S. Put another way, one can only watch so many of their neighbours forced into bankruptcy before permanently abandoning the idea of personal enterprise.
Given this "eradication strategy" of the U.S. government toward small business, it is no surprise that the same CNN article which noted that small businesses were the jobs "engine" of the U.S. economy reported that over 80% of small businesses thought the U.S. government was "on the wrong track". This makes this group the single demographic in the U.S. which is most opposed to the oppressive policies of the U.S.'s two-party dictatorship.
When these businesses were asked what they "wanted" from government, few even bothered to fantasize about actual "help" from the U.S. government, instead the overwhelming majority simply voiced a desire for the government to "get out of the way".
Let me translate this "diplomatic" characterization of the issue by the mainstream media (in this case CNN) into plainer language, for those readers not yet adept at translating media-speak. U.S. small business owners are saying (or rather begging) for their government to stop actively conspiring against them, and to level the "corporate playing field" at least slightly – a playing field which (at the moment) is tilted at a near-90 degree extreme in favor of large corporations (like the parent of CNN).
In the conclusion to this commentary, I will go farther. I will offer a comprehensive strategy to restore health to U.S. small businesses, while at the same time reducing the overall insolvency of the U.S. economy.