Kirbyanalytics subscribers received the following fast blast [in blue] appended below late Tuesday night, Jan. 25, 2011:
The Thompson Reuters CRB index weighting has not changed since 2005. However, virtually all other commodities related indexes do rebalance in early Jan of every year. For instance the $CCI consists of 17 commodity constituents – with 5.88 % of the index allotted to each commodity. It rebalances in early Jan. every year.
Silver's RABID TEAR [out-performance] last year ensured that it would be "cut back" to conform to its intended 5.88 % weight.
Other commodities indexes do the SAME THING.
Big Banks know this – they run or manage most of these index funds.
Index funds dominate the trading universe more today than at any time in our financial history.
Silver and gold are being PUNISHED – in a macro sense – in early Jan – from a commodity index re-weighting point of view – PRECISELY because they outperformed so much last year. This explains why silver is getting creamed so much more than gold – it way outperformed gold on a relative basis last year.
It's my understanding that this rebalancing window effectively closes with the expiration of Jan. Options [Wed].
If I'm correct in my thinking / analysis – this sell off is likely done and we are going to SCREAM HIGHER in both gold and silver
Why do I believe I'm right?
We have just experienced a MASSIVE RECORD reduction in gold open interest reported Tuesday, Jan. 25, 2011 when COMEX gold open interest dropped 81,752 contracts to 498,998. The silver open interest drop, down 5368 contracts to 128,228 was very large, but nothing like what happened in the gold pit. Apparently – the biggest one day drop in gold O/I prior to day was 28 thousand and change back in Nov. 2009
This tells me that the BIG BANKS [the guys who are naked short all the gold] used their fore knowledge of this rebalancing [forced selling] to cover a good chunk of their massive shorts – most likely because they KNOW they are not going to get an opportunity like this again. Basically, the banks have told us they KNOW they are screwed with their short positions – and are trying to minimize the damage.
Nothing could be more bullish for metals.
If I'm correct in my thinking, metals prices should go UP in a significant way – imminently.
The COT report on Friday should validate what I am saying here – reflecting a VERY LARGE reduction in commercial shorts.
The Sales That Led To the Price Decline Were Forced and Anticipated
The most nauseating element of what has occurred is how conflicted BIG BANKS have "gamed" [or front run, perhaps?] their clients: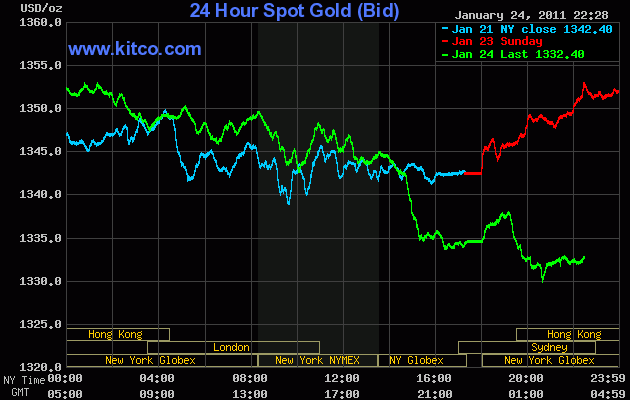 Think the banks don't anticipate and plan for such things? Read this admittedly dated article – you'll get the idea – and then ask yourself again:
Beware, commodity index rebalancing ahead

Posted by Izabella Kaminska on Jan 05, 2009 15:34.

The major commodity indices rebalance their respective asset weightings once a year (or occasionally more) — and with that comes a mass dose of buying and selling. The 2009 rebalancing is expected to start sometime this week.

Luckily, JP Morgan has produced its best guess of how the 2009 reweightings of the DJ AIGCI and the S&P GSCI indices will impact the market……

In financial terms, we expect the rebalancing to have the greatest impact in gold, COMEX copper, crude oil, gold, and live cattle. We estimate that the rebalancing of the two indices is expected to result in $877 million of selling in gold, $699 million of buying in COMEX copper, $528 million of selling in live cattle, and $523 million of buying in crude oil.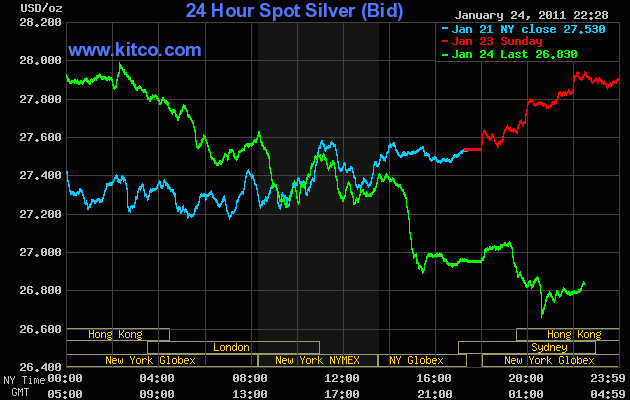 Everyone should take note how the graphs above clearly demonstrate how Algorithms completely control intra-day trade. The banks control / operate these algorithmic trading models. They are also the "market makers" in these commodities.
We can CLEARLY see how the banks – knowing they have customers who MUST SELL – collude / conspire and "pull their bids" in the Globex / Access market when liquidity is thinnest in the 24 hour global trading cycle.
Then they "scalp" their captive clients – covering their own ill-advised, manipulative, reckless short positions.
The MASSIVE reduction in open interest, mentioned above, confirm that this is indeed EXACTLY what happened.
This, ladies and gentlemen, also happens to explain HOW institutions like J.P. Morgan and Goldman Sachs can operate derivatives books in the 50 – 75 TRILLION range and NEVER, EVER SUFFER SIGNIFICANT LOSSES ON THEIR POSITIONS.
What's Different This Time
What is SO DIFFERENT about this reversal in commodities prices, should my analysis prove correct, is that the BIG BANKS – owing to this record reduction in Open Interest – appear to have CAPITULATED to some extent – and as this rally gathers steam – I doubt they are going to be "stopping" the rise with another round of indiscriminate NAKED selling – as they have done so many times in the past.
It is sickening and brutal that clueless, quasi mainstream commentators make claims like, "if prices have gone up many fold over the years, how could prices be suppressed?" Another mainstream financial hack I spoke with in recent days regarding the CLEAR signs of market manipulation made this foolish statement:
"Now if you are asking me is it possible that the system is gamed in some way – straight up my friend – yes. I have always said that the markets – including gold – are like playing poker in a road house. You know that if they have to they are going to deal from a stacked deck – your job is get out of there with your winnings and not catch a beating in the parking lot."
Where is the outrage? Why is it that people don't get it? This conduct is ILLEGAL and is a violation of COMMODITIES LAW:
The U.S. Commodity Futures Trading Commission (CFTC) is an independent agency of the United States government.

The Commodity Exchange Act (CEA), 7 U.S.C. § 1 et seq., prohibits fraudulent conduct in the trading of futures contracts. In 1974, Congress amended the Act to create a more comprehensive regulatory framework for the trading of futures contracts and created the Commodity Futures Trading Commission, replacing the Commodity Exchange Authority. The stated mission of the CFTC is to protect market users and the public from fraud, manipulation, and abusive practices related to the sale of commodity and financial futures and options, and to foster open, competitive, and financially sound futures and option markets.
So Where is the CFTC?
Our capital markets are ALL trading in accordance with predetermined, algorithmically controlled outcomes – set by the U.S. Federal Reserve in collusion with the U.S. Treasury Department and executed by the big derivatives trading banks – principally, J.P. Morgan, Goldman Sachs, Citibank, Bank of America and Morgan Stanley.
These banks have "enablers" – principally the Commodities Futures Trading Commission (CFTC). The individuals at the CFTC who are derelict in their duties to regulate the markets are, Gary Gensler, Chairman, Bart Chilton, Commissioner, Michael Dunn, Commissioner, Jill Sommers, Commissioner, Scott O'Malia, Commissioner.
These are the people who are robbing us ALL – blind.
Subscribe here.